Well, to start off, you ought to know how to play blackjack and win before you bring your bankroll into it. Luckily, it is a very easy table game to learn, with a low house edge. All that, coupled with the fact that it's fun to play, makes it one of the most loved card games of all time. Here is a comprehensive, newbie-friendly mini-guide on how to play, so keep on reading.
How to Play Blackjack
The basic, original game of blackjack entails using multiple decks of fifty-two cards, or six (virtual) decks if you're playing online. It is played with one or more players against the casino (or the dealer). The aim of the game is to get a total of 21, and that hand is called blackjack. There are different ways to win other than that perfect hand, like by not going bust (meaning, not going over 21) but still having cards with a higher value sum than the dealer. And, if the dealer busts — you beat the dealer!
When it comes to the card values, all the cards from 2 to 10 have the value that's written on them. All the cards with faces on them, like the jack and the batches of kings and queens, are worth 10 each. The ace is special, because it can be valued as a 1 or an 11, depending on what works best with your hand. Having an ace makes your hand soft, while hands without an ace are hard.
To start, all players place bets and get two downward-facing cards each, as does the dealer, but he must reveal one of his. The player can then hit (the virtual button or by tapping the table) to indicate he wants another card if the sum value is way below 21. Likewise, you can choose to stand, meaning you're happy with the cards you've been dealt.
The standard payouts are 3:2 for the perfect blackjack hand and 1:1 for any other hand that wins. In the case of a push (meaning you tie with the dealer), then your wager is returned to you.
There are many versions of blackjack, but they all stem from this one. A good online casino will have multiple options on hand for the avid player.
Dealer Rules
The cards are dealt clockwise from the dealer's left. The players can see one of the dealer's cards, but their cards remain face-down traditionally. The player sitting next to the dealer's left begins the game, and the dealer plays once all the players have done theirs.
The dealer must also keep hitting until he has a total of over 17 in his hand; then he stops or stands. Also, the dealer's ace is counted as an 11 by default, unless the hand is over 21.
Player Rules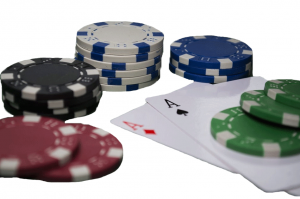 The player can make several moves to protect his wager, try to increase it or mitigate losses. Surrendering means you fold and keep half the wager, and you do this when you fear you'll lose it all if you proceed. However, this can only be done before you've made any other move or side bet. It doesn't increase the chances of winning at this casino game, but at least you won't be a sad loser.
The other side bets to which players are entitled in most blackjack versions are splitting, taking insurance and doubling down. If your original two cards are both queens, or just have the same value whatever it may be (a queen and a jack work, too – they're both equal to 10), you can split. You can usually do this several times, except if you have the much-coveted ace; then splitting is allowed only once. Doubling down means that you up your bet by double the amount, and you have to do it once you see your initial two cards. Again, some versions of blackjack may allow this to happen at any point in the game. Finally, taking insurance happens when the dealers revealed card is an ace, so try to insure yourself against the dealer getting a blackjack. If the dealer doesn't get a 21-sum, your payout is 2:1.
Basic Blackjack Strategy
Before you learn how to play blackjack online, you should learn basic strategy.
The strategy we're about to offer you isn't one you'd expect. This is because the only real strategy is called counting cards, and it only works in land-based casinos. This is because the online virtual deck is a program that randomly generates cards, so you can't keep track of them. The idea is to memorize which cards have already come out in order to calculate the odds and therefore hedge your bets accordingly. Instead, here are some tips on how to handle your game play.
If your sum total is between 17 and 20, do not hit and let the dealer do the busting. Always split if you have two aces, but not if you have two queens, two kings or any two 10-value cards. Also, stand if your sum total is 20 – that's a near-blackjack anyway, and statistically hard to beat. Lastly, if you have a sum total under the value of eight, the strategy is to always hit.
Related Questions
IS ONLINE BLACKJACK LEGAL?
Since U.S. federal law doesn't explicitly prohibit it, it's a tentative yes. Do check the laws in your state, but generally speaking, it is rarely prosecuted. Plus, even if it comes to that, the long arm of the law will reach out for the establishment rather than the player. So, it's quite all right to play online – just use our referrals to the best platforms that are safe and secure.
ARE THERE ANY BLACKJACK APPS?
Yes, there are as many blackjack apps as your gambler's heart desires! Soon after online gaming took off, casinos and software developers started making smartphone app versions of their products. It takes the hassle away from going to a physical casino, or even needing to sit down at a computer. You can now play on your phone as much as you like, and we genuinely recommend you try out RTG's blackjack apps for seamless gameplay.
WHAT IS THE BEST ONLINE CASINO FOR BLACKJACK?
There are many hallmarks of a good casino — great game selection, awesome design and layout, good customer service, fair play and quick withdrawal processing times. U.S. players aren't allowed access in all online casinos, but this shouldn't lower your expectations. Instead, pick the cream of the crop that does welcome U.S. players! We recommend casinos Las Atlantis and Red Dog for that extra experience you deserve.