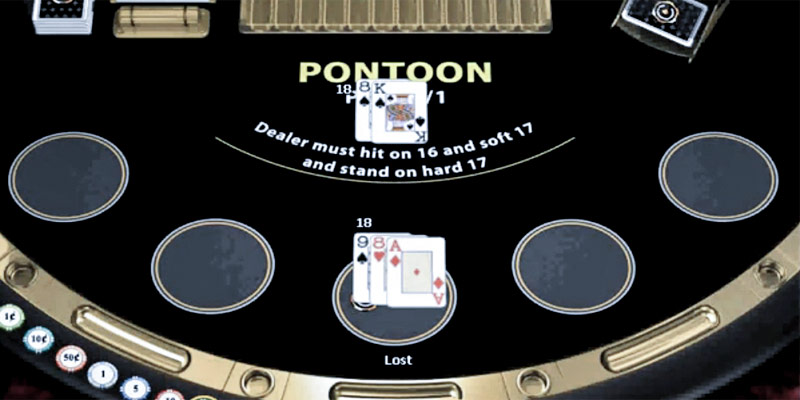 Pontoon is so popular that it's considered as one of the very best casino games online. Perhaps, you will play Pontoon for real money to get an extra thrill or play for free. It's a guaranteed good time.
About Pontoon
Sharpen your intuition, or you'll sink like a pontoon in the water! You won't see the dealer's cards before you get yours! If you tie a 21 total with the dealer, you lose. If you get a 5-card-trick hand, meaning your total is 21 or less with five and the dealer does as well, you lose again. But the dealer has to Hit, by default, on a soft 17, and you have to Hit on a soft 14.



So what makes up for this? Well, you can draw more cards once you Double, not just one, including after you Split your Aces! Also, if you Split your Aces and get a Face Card, the hand that you just split will count as a Pontoon, making this online casino game quite unique.
How to Play Pontoon
Place your coins onto the designated betting area. Clicking Deal starts the game. Naturally, clicking Hit means you want more cards, and Stand means you don't.
Bonus Features
Well, there certainly are multiple side bets that you can enjoy!
You may Double down on two, three, or even four cards.
You're allowed to Hit after Double Down, how great is that?
Split your Aces once, and other pairs up to three times.
You may Double down after a Split.
Winnings
The RTP on this game is incredible, going up to 99.35%! If you draw a pontoon hand, your payout is 2:1.
Conclusion
Casino table games online like Pontoon can be played for free or, as we're sure you already know, for real money. We believe that online casino table games really ought to be enjoyed at the best online casinos. We warmly recommend that you play for real money because Pontoon is among the best of the best casino games online.